The EMCSPCA is proud to partner with these generous businesses and organizations.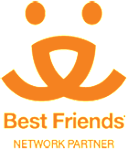 The Best Friends Network is comprised of 501(c)(3) public charity rescue groups, spay/neuter organizations and shelters actively saving lives and reducing shelter deaths locally. Being part of the Network gives groups all across the country the chance to work together to Save Them All and provides help for animal shelters and rescue groups.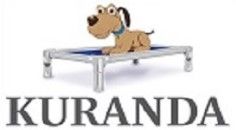 Our partnership with Kuranda allows our supporters to purchase pet beds at a discounted price for direct shipment to the EMCSPCA. In an effort to provide our dogs and cats with both comfort and cleanliness, we have chosen Kuranda cat beds and towers for our cat community rooms and three sizes of dog beds for our kennels. If you wish to purchase beds for your own dogs and cats using our partnership link, Kuranda will give the EMCSPCA a 10% commission toward our future purchases. To donate a bed to the EMCSPCA, click here. To purchase a bed for your own pet, click here.
Help the EMCSPCA by joining Amazon Smile and choosing EMCSPCA as your favorite charity When you shop with Amazon Smile, the EMCSPCA automatically receives a portion of your purchase at no additional cost to you. What a great way to help the dogs and cats of Eastern Madera County!

Join iGive and every time you shop at over 1900+ stores, a portion of your purchase will go directly to the EMCSPCA. Even better, the EMCSPCA receives a $3.00 bonus just because you signed up! Sign up today and add 
iGive
to your browser. Donating has never been easier.

The Eastern Madera County SPCA is proud to have Oakhurst Veterinary Hospital join us as a sponsor. Dr. Kevin Lazercheff and his staff provide a professional environment and a high level of care for your pets. Their veterinarians and staff are devoted to staying on top of the latest diagnostics, treatments and wellness programs to maintain your pet's optimal health.  Visit their website for information about their services.